Filter by Category
Photography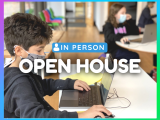 In-Person Open House: Summer 2021

Next available session starts May 25, 2021 at 5 pm
1 additional session on Jun 17, 2021
Join us for Open House!
Learn about summer camp, meet our Founder & President Rob Kissner, and experience The DAE in Scarsdale. This session will explore all the different offerings we have for kids and teens, so if you're not sure of the right in-person or virtual experience to enroll in, this open house is for you!
Come on in, ask lots of questions, and let us help you get set up for a great summer experience!