Filter by Category
Computer Drawing
[In-Person] Open House Adventure

Next available session starts May 25, 2021 at 5 pm
1 additional session on Jun 17, 2021
Join us for an adventure!
Learn about summer camp, meet our Founder & President Rob Kissner, and experience The DAE in Scarsdale. This session will explore all the different offerings we have for kids and teens, so if you're not sure of the right in-person or virtual experience to enroll in, this open house is for you!
We will have games and activities outside, and workshops inside to complete your quest. Come on out, ask lots of questions, and let us help you get set up for a great experience!
[In-Person] Digital Drawing & Cartooning

Next available session starts Jun 21, 2021 at 9:30 am
9 additional sessions through Jul 2, 2021
Ages 7-10
Daily Registration
Become a digital comic artist! Students will start by working with their instructor and their peers to create their own original characters and stories. They will then create basic storyboards of their comics. Once their storyboards are complete, they will create their comics digitally using digital drawing software.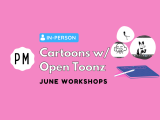 [In-Person] Create Cartoons with Open Toonz

Next available session starts Jun 21, 2021 at 1 pm

, runs for 1 week
1 additional session on Jun 28, 2021
Ages 12-16
Weekly registration only
Have you ever wondered how to create moving images with nothing but your drawings? Jump in and get started with this class! Students will learn what it takes to create traditional hand-drawn animations with Open Toonz, a free illustration and cartooning program that is used by Studio Ghibli! Students will begin with the simple bouncing ball, stick figures, and finally onto a final project where they can add as much detail as they like.
Traditional Animation is a difficult subject, so to make the learning process easier, the objects drawn in this class will be simple. Students with significant drawing experience can elaborate on their projects.