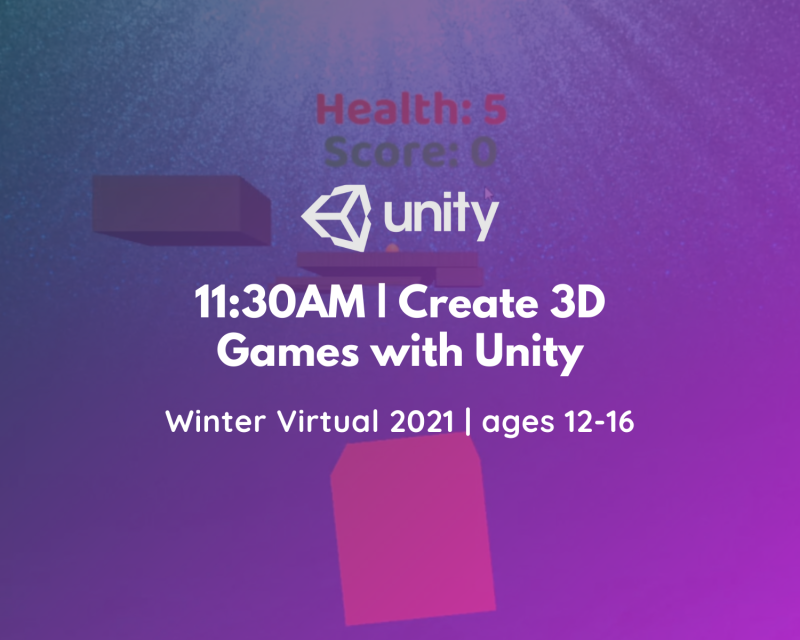 11:30AM | Create 3D Games with Unity
$29900
Ages 12-16
Learn how to build a challenging platformer in 3D. Students will use Unity, a powerful game design tool, to explore what goes into the game design process. Students with knowledge of Unity will take the reigns and come up with their own game concepts and dive deeper into game theory. The class will work as a team to solve problems, and by the end, every student will have a game they developed playable on the computer!
Software: Download and Install Unity, Blender and Gimp
Hardware: A 3 button mouse is required!
Please double check that Unity has automatically installed Visual Studio. If the program is not installed, please install it manually from this link: https://visualstudio.microsoft.com/vs/unity-tools/
Dates: 1/16, 1/23, 1/30, 2/6, 2/13, 2/20
Jan

16

-

Feb

20th

,

2021

Sat

for

6 weeks

from

11:30 am - 1:00 pm

Will run
Online Classroom: 3D Games with Unity
For directions, call us at 9146448100