Filter by Category
Spring 2021 Online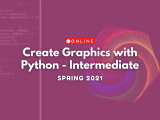 [Online] Create Graphics with Python - Intermediate

Next available session starts Apr 24, 2021 at 11:30 am

, runs for 6 weeks
Ages 12+
You've learned the basics of python, created text-based games, and even created some simple graphics with Turtle. Now it's time to take your skills with Python to the next level by creating complex, interactive projects with Processing! Processing is a programming environment designed to make creating graphics with code fun and easy. In this class, you'll put your Python skills to the test by creating awesome graphics projects and even simple arcade games!
Please install Processing and Python mode in Processing prior to the start of class
Click Here to install Processing
Click Here for a tutorial on how to install Python Mode in Processing
[Online] Start Coding with Java

Next available session starts Apr 24, 2021 at 11:30 am

, runs for 6 weeks
Ages 12+
Learn the basics of Java by creating amazing interactive projects! Java is the most commonly used programming language in the world - even Minecraft was programmed in Java! This class will explore Java using Processing, a program used to create graphics with code. From creating simple drawings to interactive animated projects, this class will provide a solid foundation in coding with Java. Students should expect to complete a variety of projects during this class.
Software: Download and install Processing
Click Here to install Processing