Filter by Category
Ages 12-16
1:30PM | Create Arcade Games with Java

Oct 3, 2020 at 1:30 pm

, runs for 6 weeks
Ages 12-16
Design and program original arcade-style video games using Java! Students will start by rebuilding pong in Processing, a programming environment specifically designed to handle graphics and interactivity. They will then as a class design, build, and test an original video game complete with characters, enemies, sound effects, music and more! From spaceship shooters to platform jumping battle games, the sky is the limit!
Software: Download and install Processing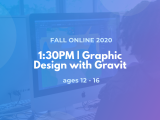 1:30PM | Graphic Design with Gravit

Oct 3, 2020 at 1:30 pm

, runs for 6 weeks
Ages 12-16
Learn to create logos, web graphics, movie posters, and much more! Students will explore the essential tools in Gravit, a free, web-based graphic design program, and create a variety of original projects ranging from graphics to custom fonts and more. No prior experience with Graphic Design is necessary. Please note, the tools used in Gravit are very similar to Adobe Illustrator, so the skills built in this class can be applied to most other design programs.
Software: Download and Install Gravit
Please create and set up a free Gravit account prior to class
1:30PM | YouTube Studio (Advanced)

Oct 3, 2020 at 1:30 pm

, runs for 6 weeks
Ages 12-16
Bring the production value of your YouTube Channel to the next level in YouTube Creator Studio! Students will explore the tricks and techniques used to create quality content on YouTube and build a following. Class time will be spent writing & developing content, editing, and exploring the best way to engage with your audience. Editing will be done with Davinci Resolve, a free and powerful video editing program.
Please note, as this is an online class, shooting will be done outside of class time. Please note, students will need access to a device that can record video. Acceptable devices includes tablets, smartphones, point and shoot cameras with video capabilities, or camcorders.
Software: Download and install Davinci Resolve and Gimp
Software for Screen Recording: OBS Studio (Windows), Quicktime (Mac)
Required Hardware: Recording Device (camera, phone, webcam etc)